VICE CHAIR OF LITTLE REDDINGS SCHOOL LOCAL GOVERNING BODY
SPECIALIST AREA: PROJECT AND CHANGE MANAGEMENT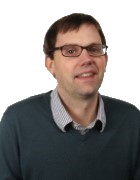 Dave has over 15 years' experience working in project management. This experience was initially in delivery of railway signalling systems but more recently in the charity and voluntary sector. Dave is now the vicar of a local church (Holy Trinity Bushey) and has been ordained for 7 years. He has a passion for taking on churches that are struggling and turning them around and developing them to the point of long term viability with clear vision and purpose. He has had specialist training in change management and has worked with a number or voluntary organisations to assist them through periods of change and restructuring.
He is involved in a several local charities and was instrumental in setting up Red Trust Bushey which works specifically in the community around Little Reddings and Bushey Meads. He has a passion for restoring local community and the importance of developing community cohesion to enable people to thrive.
He was part of a team that took the first primary school in Luton through the process of becoming an academy. He has been a governor at both primary and secondary schools for over 7 years.