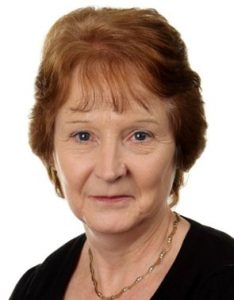 Anita Burton
The BSJT has a very experienced HR Team led by the HR Officer, Anita Burton. Anita has worked within the Trust and previously at Bushey Meads School for 17½ years in a variety of Associate Staff roles before specialising in Human Resources since September 2009. From January 2015 she has been developing and overseeing the BSJT HR Team.

The BSJT HR Team offer a range of services and Anita, as the dedicated HR Officer who oversees the HR Team, works directly with the Executive Principal. The team collate and hold centrally all relevant HR information and ensure that all relevant policies and procedures are followed consistently across the BSJT. The HR Team constantly keep up to date with changing legislation in relation to changing HR procedures.
Emma Loftus
Emma Loftus joined Bushey Meads School at the beginning of March 2021 as an experienced HR professional and an Associate Member of the CIPD. Emma's HR experience comes from a variety of sectors and she has a calm and considered approach to her work in supporting the wider team at the Bushey St James Trust. She also has experience within the education sector as a School Governor.

Emma is dedicated to supporting the HR team and the Trust in providing a fair and consistent workplace for all Trust employees, through the implementation of relevant policies, procedures and employment law updates.
The BSJT HR Team offer a high quality HR service which effectively supports the Senior Leaders in the schools across the Trust in all areas of recruitment, retention, professional development and staff wellbeing. The Team ensures that each and every school in the Trust meets its statutory obligations when it comes to employment and wellbeing and enables the respective Headteachers and Senior Leaders to focus on ensuring that excellent teaching and learning takes place.
The BSJT HR work includes all aspects of:
standard HR practices, processes and systems

HR issues related to staff attendance

staffing reviews and restructuring

policies

recruitment and retention of staff

safeguarding

mediation to resolve workplace issues

strategic and operational HR support

updates on employment and education legislation