Self-evaluation at Bushey Meads School in September 2014 rated the school as requiring improvement and plans were rapidly implemented to secure a thoroughly Good Ofsted rating in September 2015 under the new rigorous Ofsted framework. During that academic year GCSE results improved in 80% of subjects at Key Stage 4, by an average of 16.5%.
"Driven by high aspirations, a wide range of improvements have been planned to make sure that all students benefit from good teaching in all years and all subjects."   Ofsted September 2015
Results at AS Level in 2015 were the best ever for 6 years and this translated into similar results at A level in 2016. Indeed Level 3 Sixth Form ratings in 2016 indicated a 0.28 value added score meaning that on average, every student in the sixth form achieved nearly a 1/3rd grade higher than their aspirational target grades in all of their subjects.
"The school has gone through a huge transformation over the past year. The changes have certainly been positive for the school and its learners."   Ofsted September 2015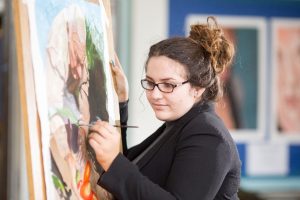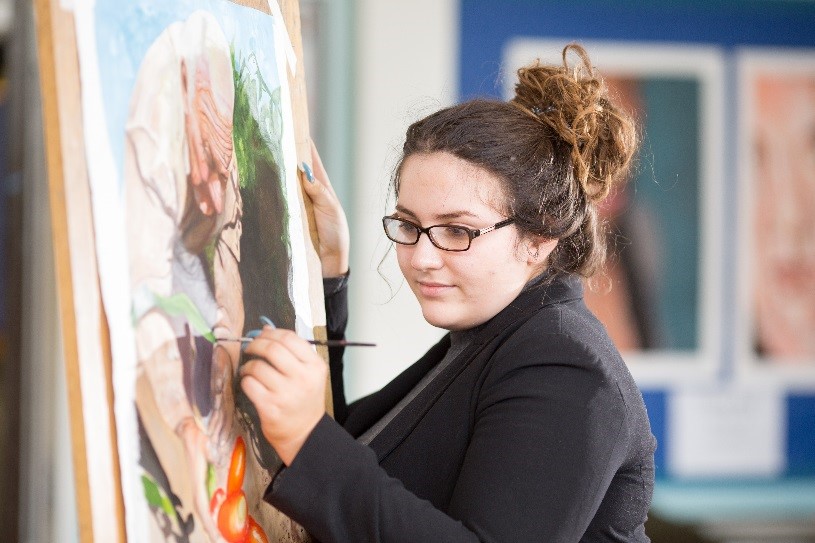 For vocational courses the value added measure was 1.11 meaning that every student studying one of these courses achieved more than 1 grade higher than their predicted grade.
For some faculties the results were even more impressive and the Maths Faculty's results for example gave them a value added score of 1.45 meaning that on average every single student achieved grades that were between 1 and 2 grades higher than their predictions.
"Staff are very positive about working at the school."  Ofsted September 2015
Although there is still work to do, the whole school focus on More Able and Pupil Premium students is closing the gaps for students with current data demonstrating an upward trajectory in this important area of school performance.
The primary school within the Trust has had an equally exciting recent journey. The Ofsted Inspection in November 2014 concurred with the school's own self-evaluation and rated the school as requires improvement. The report however strongly recognised the impact that the new Headteacher (appointed in April 2014) had already made – particularly in the key areas of safeguarding that had, until recently, been inadequate. Ofsted also commented positively on her accurate knowledge of the school, the morale and commitment of the wider staffing body and the obvious capacity to improve.
"The strong leadership of the headteacher, since her appointment, has ensured that the school site is safe for pupils, the Nursery provision has improved, attendance has increased and expectations of teaching and pupils' achievements have been raised."   Ofsted November 2014
"All staff who responded to the staff questionnaire praised the impact of the headteacher and commented on their involvement in school developments. As a result, staff morale is high with all staff actively supporting the headteacher's drive for improvements."   Ofsted November 2014
"The headteacher knows the strengths and weaknesses of the school well. The accurate self-evaluation informs a development plan which includes all the right priorities for the school. In a short time, the headteacher and senior leaders have shown that they have the capacity to improve the school further."    Ofsted November 2014
The Multi Academy Trust provided a secure platform for rapid transformation. This started with a full review of Governance, undertaken by the Executive Principal, which complimented the work within the school to improve teaching and learning and outcomes for all pupils.
In November 2016 the Primary School was rated by Ofsted as thoroughly Good with Outstanding features and is continuing to improve in all areas.
"The headteacher provides strong, committed leadership that is focused on providing a high standard of education for all pupils. As a result, the school is rapidly improving. Teaching is now typically good across the school. Teachers plan activities that interest and engage pupils in their learning."  Ofsted November 2016
"Governance has improved since the last inspection. Governors now support and challenge school leaders to produce good outcomes. Appropriate systems are in place across the academy trust to manage the performance of all staff." Ofsted November 2016
In terms of outcomes for pupils Ofsted recognised that Phonics teaching is good at the school and attainment at the end of Key Stage 2 continues to improve, with results showing that pupils were making progress at least in line with the national average and attainment being broadly average in English and mathematics. At the end of Key Stage 1 pupil attainment was also broadly average. They also identified that work in pupils' books shows they are making good progress over time in a range of subjects. Disadvantaged pupils in the school are making good progress. In Early Years Children are making good progress in all areas of learning.
Over the last two years outstanding staff have been recruited to the Trust and, together with existing outstanding staff, professionally developed along with all colleagues within the Trust.
Regular personalised staff training and collaborations are planned across the Bushey St James Trust to ensure the school improvement journey continues and the very best quality first teaching takes place in all classrooms.
Lead Practitioners, Specialist Leaders in Education and Advanced Lead Teachers lead Professional Learning Groups across the Trust to facilitate the ongoing sharing of best practice. Many of them showcase their practice locally, regionally and also in the national arena.
These staff include the following key leaders of learning:
Bill Fisher – Senior Assistant Headteacher
Bill's career, spanning five decades, has seen him teach a wide range of subjects at KS3, 4 and 5, in several schools, including four years abroad. His extensive SLT experience has encompassed most leadership portfolios, and his own studies in education throughout that period include NPQH and an M.Ed. from Cambridge University. Currently, as Senior Assistant Headteacher at Bushey Meads School, Bill heads up KS3 and leads on whole-school curriculum and the more able agenda. Bill is passionate about secondary transition and determined to make those key first impressions of secondary school a safe, inclusive and inspiring experience for students and their parents and carers; a transition that actually boosts student learning, propelling rapid progress.
---
Lauren Wright - Assistant Headteacher
Lauren joined the Trust in September 2016, having worked in several schools in North London with a pedigree of senior leadership and coaching and mentoring experience. She holds a leadership position across the schools within the Trust with a focus on the More Able agenda and character development; currently implementing the nationally acclaimed PiXLEdge programme at Little Reddings Primary School. She teaches across the Key Stage 2 and 3 transition phase.
---
Sebastian Gray – Assistant Headteacher
Sebastian Gray is a part of a young and exciting leadership team at Little Reddings Primary School. He has led English through a time of change at the school, including embedding the new National Curriculum, preparing for the new End of Key Stage tests and the journey from 'Requires Improvement' to 'Good'. In addition, he has worked with colleagues across the Bushey St James Trust to build relationships, share and utilise resources and further develop the KS2-KS3 transition. Sebastian has a passion for motivating all children to achieve their potential in all areas, in particular in writing. He has introduced regular 'Writing Days' and writing competitions to build the profile of writing within the school – a necessary change in culture needed at the school. Constantly seeking feedback from the pupils, he works closely with all year groups to ensure the children remain excited about their writing to give them the passion that hopefully carries with them through to secondary school and beyond.  Last year he presented his work and shared best practice at two national conferences.
---
Fazana Farook – Lead Practitioner English KS2 - 3
Fazana Farook has been an English teacher for 8 years, working in a range of London schools. During this time she has overseen whole-school literacy through her roles as an EAL Co-ordinator in a school where over 50% of students were learning English as an additional language, and later as a Lead Practitioner of English and Literacy. She is currently working as a Lead Practitioner of English and KS2-3 Transition within the Trust and is developing a robust literacy assessment framework that will enable students to develop confident English and literacy skills across all key stages. Through her experience and qualifications, Fazana has developed a strong interest in, and detailed knowledge of, the pedagogy of literacy and how it can support excellent classroom practice across a range of subjects. She is passionate about raising the profile of literacy as a cross-curricular skill that will ensure students are able to engage with challenging ideas and concepts whilst communicating their opinions with enthusiasm and success. She has presented her work and best practice at a number of local, regional and national conferences.
---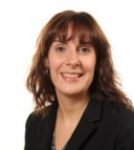 Danielle Bowe – Lead Practitioner English and Whole School Literacy
Danielle has over two decades of experience of successfully teaching English at KS3, 4 and 5 in two inner London comprehensives. After being a highly successful Head of English she gained full accreditation as an Advanced Skills teacher in 2008 with Teaching and Learning and Behaviour Management as her specialisms. She has genuine passion for teaching and being in the classroom and her enhanced role of Lead Practitioner within the Bushey St James Trust allows her to do that, along with whole school development with the literacy strand. She contributes regularly to the comprehensive school CPD programme and effectively develops many staff with aspects of their classroom practice. She has worked with other local schools and disseminates good practice, sharing and developing resources - currently taking a leading role in the development and implementation of the new GCSE changes in the English curriculum through the creation of resources and schemes of learning as well as support and training of staff. Her classroom and marking practice is frequently used as a bench mark for excellence; through an enhanced repertoire of teaching and intervention strategies, she targets students' needs in a personalised way that aims to foster creativity, life-long learning and achievement. She has presented at a number of recent national conferences including the SSAT Achievement Show.
---
Andeel Akram – Lead Practitioner Maths and Whole School Numeracy
Andeel joined the Bushey St James Trust in September 2015 and has had a significant impact in driving up standards and improving teaching and learning across Bushey Meads School. His work within the Maths Faculty has helped to secure it as a top performing faculty and one that frequently showcases best practice within and beyond the Multi Academy Trust. He frequently delivers high quality training to the whole staff and groups of teachers and also supports colleagues on a one to one basis to improve their practice within the classroom.
---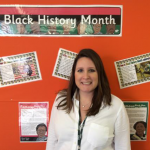 Tamsin Gianonne – Assistant Headteacher and Specialist Leader of Education
Tamsin was designated as a Specialist Leader of Education in 2016. As an SLE she is recognised as an outstanding leader and has a particular area of expertise in Early Years and Phonics. Her successful track record of school improvement has made her a key player in the exciting journey at Little Reddings and supports many staff within and beyond the Trust.
---
Dave Presky – Specialist Leader of Education ICT and Computing
Dave was designated as a Specialist Leader of Education in 2016. As an SLE he is recognised as an outstanding leader and has a particular area of expertise in ICT and Computing. His successful track record of school improvement has made him a key player in the exciting journey at Little Reddings. He also regularly showcases his work and the practice within the Trust at regional and national conferences and supports many staff within and beyond the Trust.
---
Matthew Dudson-Green – Advanced Lead Teacher Science
Joining the Bushey St James Trust in September 2016, Matt has had a significant impact within the Science Faculty and across Bushey Meads School. His experience of coaching and mentoring staff enables him to effectively deliver high quality training to the whole staff and specific groups of teachers. He also supports colleagues on a one to one basis to improve their practice within the classroom.
---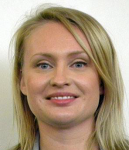 Sarah Brown – Head of Music and Music Coordinator across the BSJT
Joining in January 2015, Sarah has had a significant impact within the Performing Arts Faculty and across Bushey Meads School and indeed across the Trust. Her experience enables her to work effectively with pupils from both schools to develop a high range of exciting musical opportunities for all students within the Trust. Her passion is singing and she loves working with choirs and vocal groups of all ages. She also plays the piano, clarinet, guitar and bass guitar which means that she enjoys classical music and leading orchestras, as well as rock and pop music and working with bands. She is a very experienced professional and spent six years at a comprehensive school in North London; during her time there developing a keen interest in travel and how it could benefit students' cultural capital. From 2012 to 2014 she led a European Union funded Comenius project entitled 'In The Footsteps of Mozart'. This gave students the opportunity to travel throughout Europe and musically collaborate with peers across nine EU countries. It was a wonderful experience that enabled students to develop their awareness of citizenship, modern foreign languages, their shared European culture and of course their common language of music. She has presented at National Conferences and supports many staff within and beyond the Trust.
---